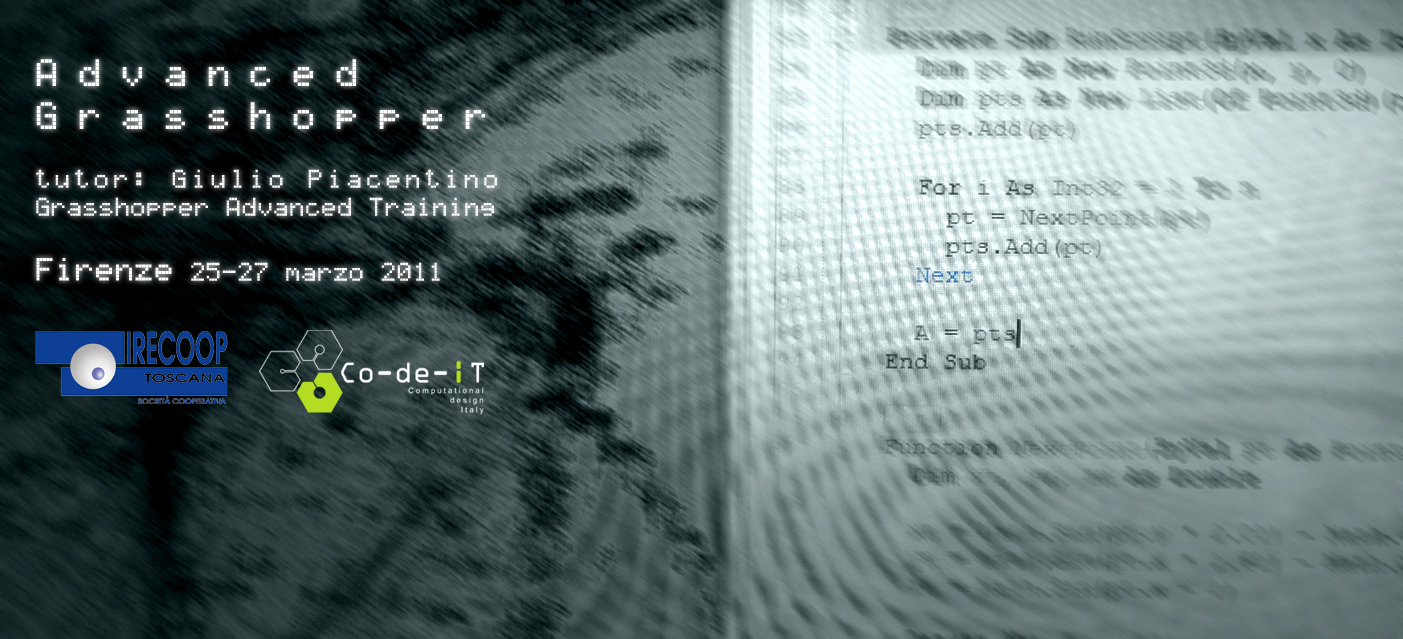 http://www.co-de-it.com/wordpress/advanced-grasshopper-workshop.html
Workshop
Co-de-iT + Giulio Piacentino
Firenze – 43°48'3.34″N 11°14'5.60″E
25-27.03.2011
.
Grasshopper Advanced Training
Advanced Grasshopper workshop
Firenze _ 25-27 Marzo 2011
Tutor: Giulio Piacentino
[.] Descrizione
Si tratta di un corso di scripting basato su RhinoCommon e sul suo utilizzo all'interno di Grasshopper. Il corso è concepito per consentire all'utente di ottenere di più da questo programma di algorithmic modeling ed ha come scopo quello di introdurre al mondo della programmazione ed sperimentare soluzioni più complesse ed interattive. Verranno anche esplorati modelli di programmazione complessa. Non c'è un linguaggio di programmazione ufficiale in quanto è possibile per i partecipanti utilizzare sia C# che VB.net, e tutti gli esempi verranno forniti in entrambe i linguaggi. Inoltre, sarà illustrato come iniziare a scrivere plugins completi .Net. Infine, ci sarà tempo per esplorare le proposte personali dei partecipanti durante il terzo giorno.
Il numero dei partecipanti è fissato a un massimo di 20 per offrire un tutoraggio proficuo ed una effettiva esperienza di learning ad ogni iscritto.
[.] English description
This is a scripting course based on RhinoCommon and its utilization within Grasshopper. It is designed to allow the user to accomplish more with this algorithmic modeling program and has the goal to enter the programming world and tinker more complex, interactive solutions. We will also explore advanced programming paradigms. There is no class official programming language, as both C# and Vb.Net are possible on the participant's side, and all examples will be provided in both C# and Vb.Net. Additionally, we will see how to get started writing full .Net plug-ins. Finally, we will have time to explore user's own proposals on the third day.
The participants number is established to a maximum of 20 people in order to ensure a fruitful tutoring as well as a consistent learning experience to all participants.


. luogo:
IreCoop – via Vasco De Gama 27 _ Firenze
. durata:
25-27 marzo 2010 – 3 giornate consecutive _ orario 9:00 – 18:00
. costo:
professionisti – 595.00 €
studenti – 300.00 €
. note:
scadenza iscrizioni: 21 marzo 2010
il corso sarà attivato con un numero minimo di 15 iscritti
al termine sarà rilasciato un attestato di frequenza
gli iscritti dovrano venire muniti dei propri laptop con software installato.
una versione free per 30 giorni è disponibile sul sito www.rhino3d.com
. contatti:
iscrizioni + info alloggi: www.irecooptoscana.it (Cosa offriamo > formazione > altri corsi)
info sul corso: info@co-de-it.com